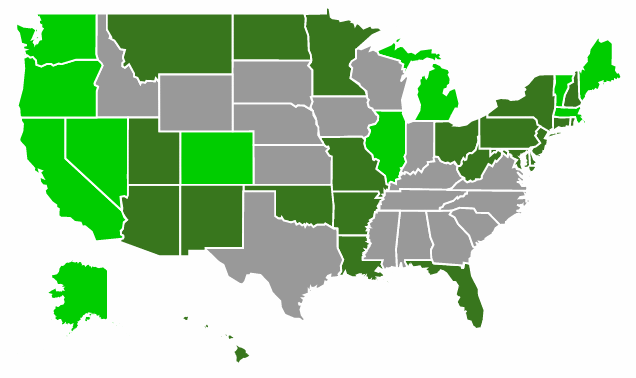 Latest studies published in the Journal of the American Medical Association are in favor of cannabis legalization. It seems that it could drastically reduce opioid consumption.
According to the research, when states legalize either medical or recreational marijuana, this can result in a massive drop in opioid prescriptions.
Studies' results indicate a lower number of opioid prescriptions
These two studies analyzed the number of opioid prescriptions that have been filled over a period of five years across a few states in the US.
Of course, these had to pass the medical or recreational marijuana laws. Results demonstrated an essential drop in opioid prescriptions when marijuana laws went into effect.
"Some of the states we analyzed had medical cannabis laws throughout the five-year study period, some never had medical cannabis, and some enacted medical cannabis laws during those five years," stated W. David Bradford, the co-author on one of the studies.
"So, what we were able to do is ask what happens to physician behavior regarding their opiate prescribing if and when medical cannabis becomes available."
Researchers are confident that these drops in opioid prescriptions are linked to the legalizing of marijuana.
What's more interesting is that there were no reductions in rates of prescriptions for non-opioid treatments during the study.
"We examined prescription rates for non-opioid drugs such as blood thinners, flu medications, and phosphorus stimulants, and we saw no change," stated Ashley Bradford, lead author of the study.
"Medical cannabis wouldn't be an effective treatment for flu or anemia, so we feel pretty confident that the changes we see in opioids are because of marijuana because there is legitimate medical use.
Marijuana is a useful pain relief treatment, according to research
Older research has proved that marijuana is a useful pain relief treatment that is suitable to become a replacement for opioid medication. Studies showed that 97% of analyzed subjects agreed that marijuana helped them decrease the number of opiates that they usually consumed.
Here you can find one of the latest studies suggesting that legalizing marijuana decreases opioid treatment consumption, and here you can read the second study.