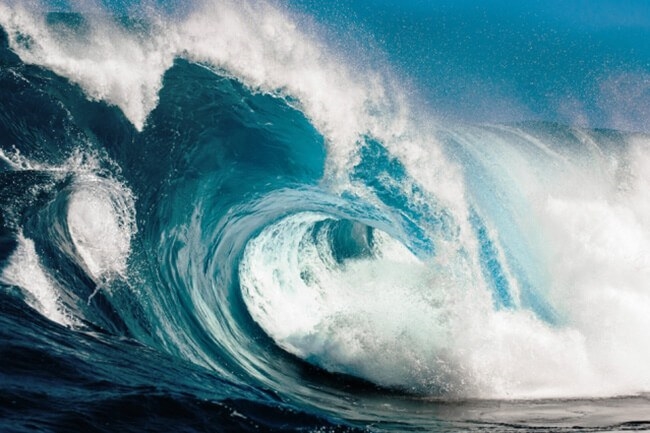 A buoy in the vicinity of Campbell Island, just south of New Zealand, recorded a huge wave of almost 24 meters, according to the country's meteorological service. New Zealand scientists believe it is the highest wave in the Southern Hemisphere that has ever been recorded, beating the last known record, that of the controlled wave on the Australian island of Tasmania in 2012, with 22.03 meters.
The highest wave in the Southern Hemisphere was formed due to a low-pressure front and a fast-blowing winds
The New Zealand Meteorological Service installed a solar-powered buoy on March 2nd in the south of Campbell Island, located in the Pacific Ocean, a part of the so-called sub-Antarctic Islands.
Once every three hours, this wave measurement tool runs for 20 minutes and sends information via satellite. The 24-meter wave, as Dr. Tom Durrant reports, was generated by a low-pressure front and a storm with winds of just over 120 kilometers per hour.
According to Durrant, the lack of land-based obstacles in the Southern Ocean makes it easier for a storm to move.
The Antarctic Ocean is ideal to develop some of the highest waves in the world thanks to its winds and currents patterns
"The ocean around Antarctica is unique and the least studied, despite occupying 22% of the global ocean surface," the report on the 24-meter wave reads.
"The wind conditions create great possibilities for wave growth, which makes this ocean the ideal place for the origin of large waves that later spread around the planet," Tom Durrant says in the same report.
Also Enrique Alvarez Fanjul, head of the physical oceanography department at Puertos del Estado, also praises this area of the planet.
"The Antarctic Ocean goes around the world without being blocked by land," he explains. "The more area without land, the easier it is to develop highest waves," he added, referring to how it has been possible the formation of a 24-meter wave, recorded by New Zealand, and, supposedly, the highest wave in the Southern Hemisphere ever.