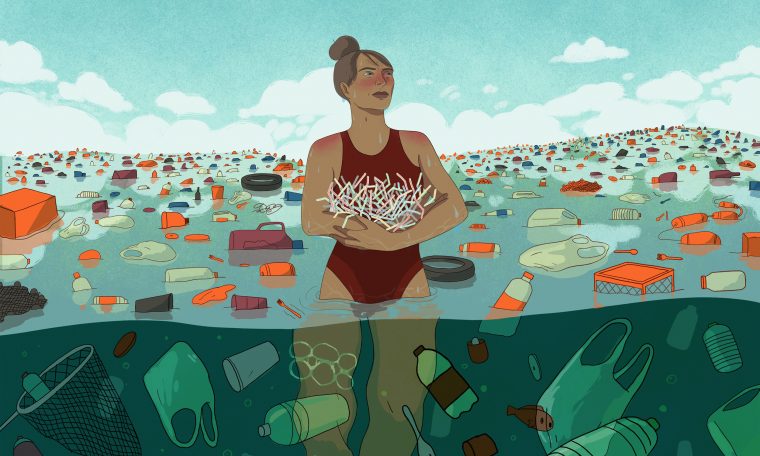 Cities and governments seek to ban plastic straws and plastic cotton buds in the hope of solving part of the contamination problem with the plastic waste, worldwide. However, it is so serious that scientists claim that these measures are far from sufficient.
Australian scientists Denise Hardesty and Chris Wilcox estimate, based on the garbage collected in coastal strips of the United States over five years, that there are about 7.5 million plastic straws on the US coasts. For them, that means that there are about 437 million plastic straws on the coasts around the world.
But those huge figures suddenly look small when you see all the plastic that reaches the oceans. Environmental engineering professor Jenna Jambeck of the University of Georgia estimates that about 9 million tons end up in the oceans and coasts each year since 2010, according to her 2015 study published in the journal Science.
That is only in the oceans and around them. Annually more than 35 million tons of plastic waste is produced throughout the planet, and approximately a quarter of that amount ends up in the waters.
"For every pound of tuna we take from the ocean, we are throwing two pounds of plastic into the ocean," said ocean scientist Sherry Lippiatt, California regional coordinator of the marine debris program at the National Office of Oceanic and Atmospheric Administration.
New materials are used to substitute plastics to reduce plastic waste
The organizers of Earth Day, which is celebrated today, have as this year's theme the end of plastic pollution. And following in the footsteps of American cities such as Seattle and Miami Beach, the British Prime Minister Theresa May stated this month the British Commonwealth will weigh the ban on drinking plastic straws and plastic buds.
The fast-food chain McDonald's will test paper straws in some of its restaurants in the United Kingdom, next month, and will keep them all behind the counter, so that only customers who need them may ask for them.
"The bans can do their part," said oceanographer Kara Lavendar Law, co-author with Jambeck of the study published in Science in 2015. "We're not going to solve the problem by banning the plastic straws."
Steve Russell, vice president of plastics for the American Council of Chemistry, said people can reduce plastic waste by not using straws but "in many cases, these plastics provide sanitary conditions for food, beverages and personal care items."