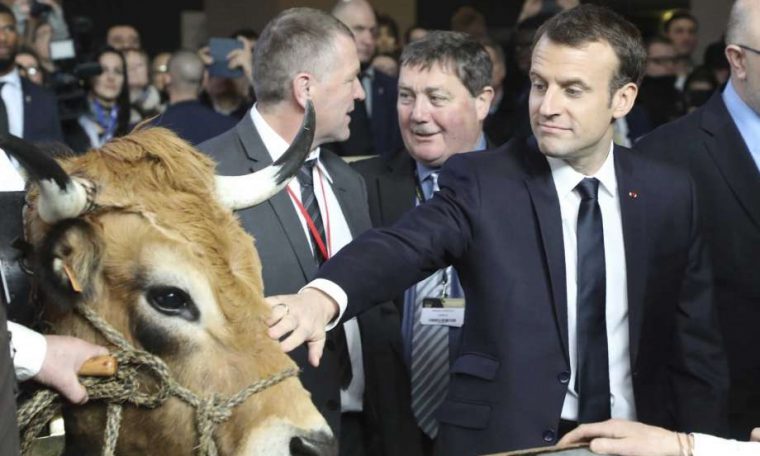 Emmanuel Macron was whistled and booed for several minutes just a few hours ago (Saturday, February 24th) at the "Agriculture Fair", which he first visited as the President of France today.
France's leader was booed and whistled by the members of the "Jeunes Agriculteurs" organization (Young Farmers, JA) who shook shirts with the inscription "Attention, angry farmers".
Before this unhappy event, the president was welcomed by farmers with applause.
Approximately ten Young Farmers organization's members from Ile-de-France were whistling and manifesting in front of the "Inaporc" stand, a swine stand, while about 100 others were assigned to various areas of the fair to intercept the French head of the state during his itinerary, according to Thibault Guilvert, the general secretary at Young Farmers organization in Seine-et-Marne.
Even more, booing continued as Macron reached to the "Interbev" stand. Protestants were booing and whistling.
Macron's agriculture policies are not respecting his campaign promises
"Macron is a liar because he did not respect his campaign commitments," Thibault Guilvert added.
The protests were made against Macron's carelessness regarding glyphosate and meat with hormones policies, an attitude which is opposite to the one Macron has adopted during his election campaign.
Meat with hormones and foods contaminated with glyphosate risk of being imported even more since the free trade agreement negotiated between the EU and Mercosur (cross-border trade union of Argentina, Brazil, Paraguay, and Uruguay) is on the brink of acceptance.
Glyphosate is the active ingredient in the Roundup herbicide used by Monsanto company. Just recently, glyphosate has been proven to cause cancer.
A study showed that people in 18 European countries have this glyphosate in their bodies, while another study shows that this chemical has estrogenic properties and leads to the proliferation of breast cancer.
Protestants booed Macron disagreeing with his new policies regarding agriculture and his total disinterest regarding the risks glyphosate and meat with hormones may bring.