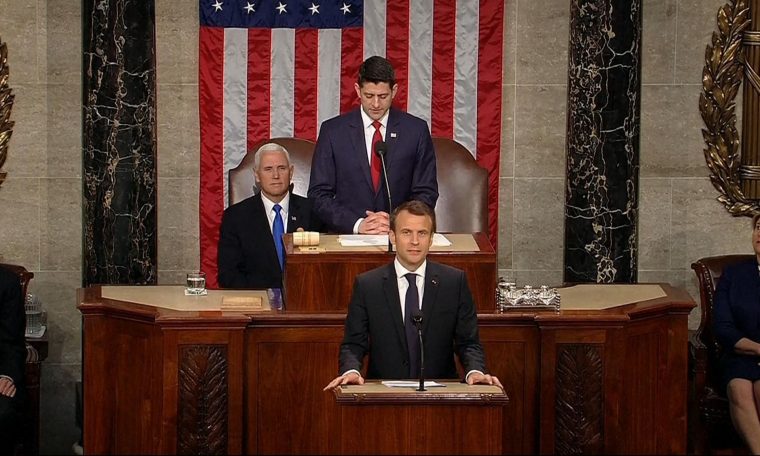 A speech of profound friendship between the two countries, which have "a very special relationship", without sparing some clear messages to Trump. Welcomed by three minutes of applause, the French President Emmanuel Macron spoke before the US Congress exactly 58 years after General Charles de Gaulle. The officials talked about climate change, Siria situation and terrorism.
Macron recalled that the United States and France have been always united in terms of values and point of views. In the first state visit to Washington since Trump has been elected, Macron recalled that France and the USA are "nations rooted in the same terrain, the same ideals of the American and French revolution, the values of tolerance, freedom, and equal rights."
Macron about the climate change – "The US will come back to join the Paris agreement"
The climate change was also debated during Macron's speech before the American Congress. Macron seemed to turn to Trump, who brought the United States out of the Paris agreement.
"We must leave our children a habitable planet since there is no <planet B>. What's the point in making choices that will condemn our children and grandchildren?" said Macron.
Interrupted frequently by applause, the French President called for a joint effort.
"We must work together. I think one day the US will come back to join the Paris agreement," said Emmanuel Macron showing his desire to fight against climate change along with the US.
United in the Syria situation and against the terrorism
"In recent years our countries have experienced numerous tragedies. We suffered for our attachment to our values, principles that the terrorists hate", said Macron who also make reference to the attacks of 9/11 attacks against the United States.
"We will never forget the innocent victims of terrorist attacks, it is a terrible price for freedom and democracy. And that's why we're together in Syria and in the Sahel to fight together against terrorist groups and to destroy them," shouted Macron.
In conclusion, Macron made some interesting statements, especially regarding climate change and the US return to the Paris agreement. Alos, Macron treated the Syria situation and the fight terrorism, among other subjects including nationalism and isolationism.