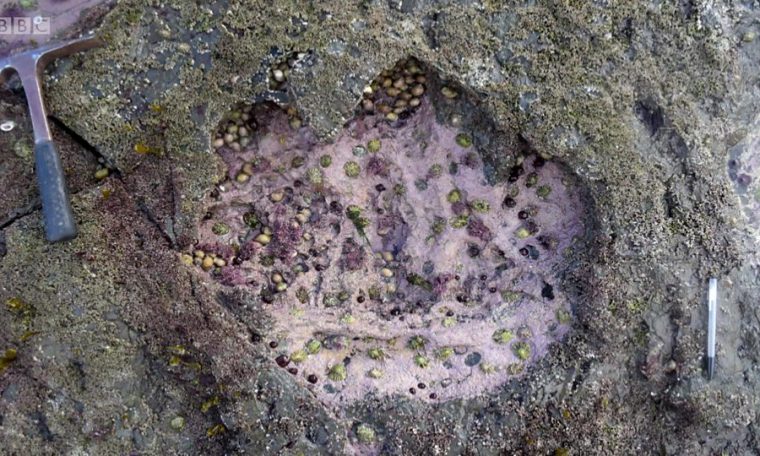 Red Fleet State Park, in Utah, in the United States, triggered the alarm after tourists have caused extensive damage. Accordingly to the Park's spokesman, several tourists have damaged dinosaur tracks as they confused them with… simple rocks.
This is a perfect example of involuntary human stupidity, some may think, as in Red Fleet State Park, in the United States, many tourists have unintentionally destroyed dinosaur footprints. How was that possible? They simply confused them all with stones.
The park has a lot of these special tracks, as this is its specificity. But dozens of prehistoric raptor tracks have reportedly disappeared in recent months in this Utah park. Visitors pick them up on the ground and have fun throwing them into the lake of the park.
The site with dinosaur tracks is deteriorating due to human activity. There has been a significant impact on the site due to individuals throwing rocks (mostly containing dinosaur tracks) into the water in the last six months.

Red Fleet State Park on Facebook
Despite the ads not to throw rocks in the lake of Red Fleet State Park, tourists have sunk dozens of rocks with dinosaurs tracks
Asked by the media, Josh Hansen, the Park's director explained:
They just try to throw rocks into the lake but they don't realize that the rocks they collect are covered with dinosaur tracks. That is why it is important not to touch any stones in this area of the park.
Above all, some of these rocks would not be easily recognizable to contain dinosaur tracks. In other cases, it is more visible but the authorities advised tourists not to throw stones in the lake, however.
A team of divers will be hired to retrieve those that are already at the bottom of the lake within Red Fleet State Park. However, not all of them will be recoverable as some may have broken or even dissolved in water.
In short, the next time you want to throw a stone in a lake just to make some waves, take a second look at it as it might contain some dinosaurs tracks and you'll make even bigger waves than expected.