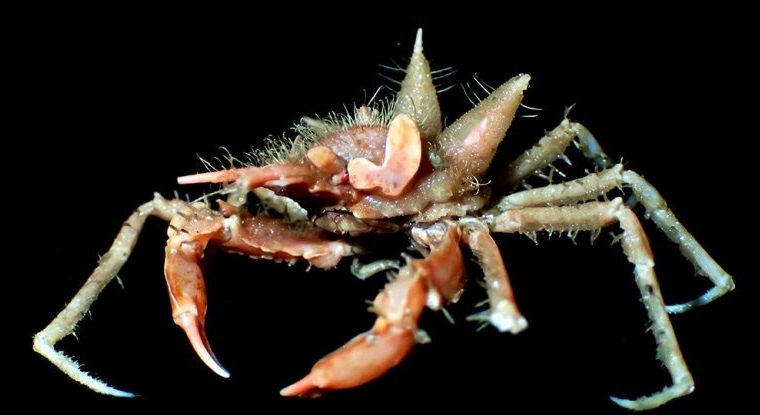 Among the ocean animals that have just met science is a crab that has fluffy spines and crimson eyes
In spite of a stormy start because of The Cyclone called Marcus, researchers who took part in the South Java Deep Sea Biodiversity Expedition from 2018, or SJADES 2018 for short, had gathered more than 12,000 animals amid their 14-day voyage to study the unexplored oceans off the southern bank of West Java, in Indonesia.
The group, formed of 31 specialists and care staff, together with Professor Peter Ng, leader of the Lee Kong Chian Natural History Museum of the NUS (National University of Singapore), and Professor Dwi Listyo Rahayu, a senior researcher from the Research Center for Oceanography (RCO).
Approximately 800 species from more than 200 groups of sponges, jellyfish, molluscs, worms, crabs, and fish were revealed amid the expedition. 12 new types of loner crabs, prawns, lobsters, and crabs were found, and more than 40 types of different sorts represent something new to Indonesia.
Among the ocean creatures, we can also find a crab that has fluffy spines and crimson eyes, a lobster with long arms and a zebra-designed shell. Also, a hermit crab with green eyes and orange joined pliers.
About the expedition
The South Java Deep-Sea Biodiversity Expedition 2018 is the primary coordinated ocean biological l investigation directed by Singapore and Indonesia to look more into the ocean marine life, to a great extent unexplored piece of the waters off the southern shore of West Java.
This uncommon expedition is an impression of the striking and community-oriented soul typified in RISING50, which is a festival of 50 years of diplomatic relations amongst Singapore and Indonesia. This joint activity reaffirms the profundity and decent variety of the long-standing cooperation between the academic and scientific communities of Singapore and Indonesia.