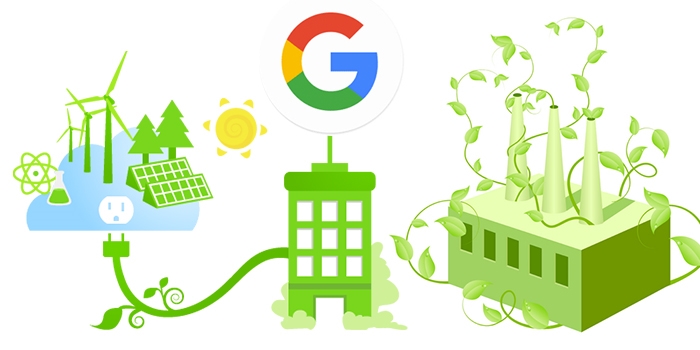 Google has the 'Zero Emissions' project, through which it puts its technology at the service of environmental protection. Google already acquires 100% of the energy it consumes from clean sources. The multinational has announced that it has achieved the goal that was set last year to get more energy from wind or solar sources than the amount of electricity used for its operations around the world. And it has done it hand in hand with companies involved in renewable energy production.
Google buys green energy in equal amounts with the conventional energy it uses
"We have been the first company of a size like ours to achieve this milestone, but we say that we equate consumption because today it is impossible to move an organization like ours with only green energy," Google representatives say on the official Google blog.
During 2017, they explain, they have bought 1 KWh of green energy for each kilowatt of electricity they consume. "We currently have contracts to acquire three gigawatts (3GW) from renewable energy projects."
Environmental protection and green energy production are the main goals set by Google
From the moment, an agreement of this type is signed, and two years have to pass before the solar and wind farms to be built and start producing energy.
The last projects that have been included in these contracts go through a 114 MW wind farm in Ames, in Iowa, a 100.8 MW wind plan in Mayes County, in Oklahoma, a 72MW facility in Sweden, and a 240 MW wind farm in Texas.
On the other hand, within the project 'Zero Emissions', Google uses technologies such as machine learning and artificial intelligence, through its DeepMind, to optimize the consumption of its data centers by up to 40%, in a measure to increase its environmental protection and green energy production. Google has also made Google Earth technology available to experts to improve understanding of climate change and make better decisions in the future.