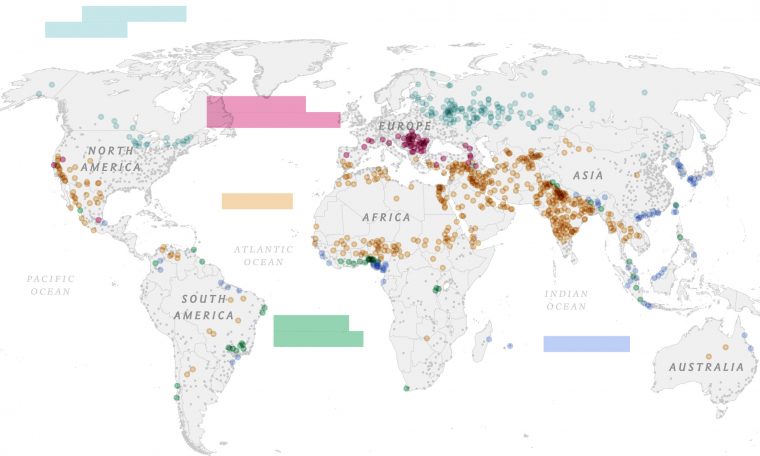 Temperatures will rise by about 6 degrees Celsius in the Saskatchewan capital by 2050 due to global warming. These estimates were launched by a group of researchers from the University of Winnipeg and other members of the Prairie Climate Centre, who launched Canada's Climate Atlas on April 4th, 2018.
Canada's Climate Atlas is an interactive site designed to allow Canadians to visualize the impact of climate change on over 2000 cities and towns across the country over the next 80 years.
Climate determines almost everything about how we design, build and live in our cities. Global warming puts the security and prosperity of our cities at risk.
Researchers reveal massive increases in temperature in Regina, Saskatchewan, Canada, due to global warming
According to the researchers, it will only be one day a year with -30 degrees Celsius in Regina. On the other hand, it will be more than 30 degrees Celsius for 50 days per year, on average.
Accordingly, winters will be warmer, with 30 or even fewer days below zero degrees Celsius and the springs will be wetter, with 30% or more precipitation.
On the other hand, summers will lose slightly over 7% in the volume of precipitations, while the temperature will increase gradually year after year. Accordingly, in Regina, Saskatchewan, the temperature will increase to 45.6 degrees Celsius by 2050 during the summer days.
"Extreme and prolonged heat can impact air quality, facilitate the spread of dangerous diseases, prevent outdoor activities and cause stress and anxiety," the report says. According to researchers, urgent action is needed to avoid long-term damage, such as the negative impact of climate change on agriculture practices and wild animals' behavior, increasing the environmental degradation and causing more and more species to lose their habitats and get exposed to extinction.
The situation to which Regina, as well as other Saskatchewan regions, is exposed is not an isolated case in Canada, as many other cities will also be experiencing significant temperatures increase and extreme weather phenomena, all caused by global warming.