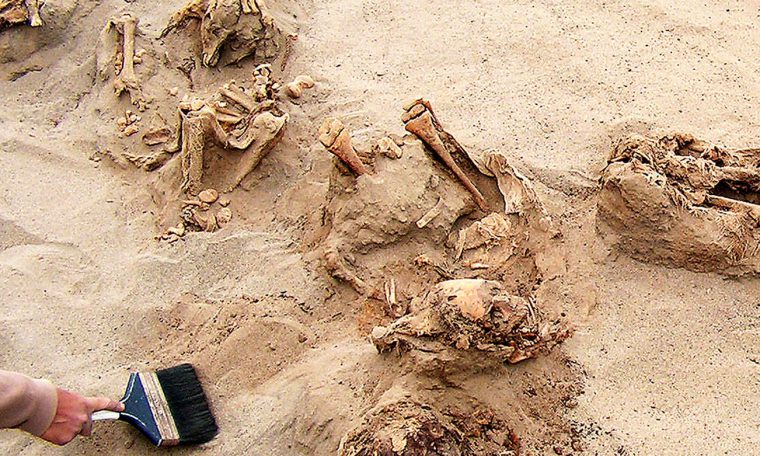 A new excavation carried out in northern Peru by a research team, financed by the National Geographic Society, has found the remains of 111 children sacrificed in the pre-Columbian period by the Chimu culture, a pre-Inca civilization, according to Peruvian archaeologist Feren Castillo.
"To the 140 children found in the area of Huanchaquito a few months ago, in this new excavation in Pampas La Cruz, to date, we have found a total of 111 sacrificed children. Archaeology has rewarded us," Castillo says.
"We have excavated everything in Huanchaquito, and 140 have been found there. In Pampas la Cruz we have yet to finish digging, but we are now at a figure that is close to surpassing that large number," the archaeologist added.
Archaeologists unearthed 111 children sacrificed by a pre-Inca civilization, the Chimu civilization
According to Castillo, this is a human sacrifice made by the pre-Columbian civilization of Chimu between 1400 and 1450 of our era, due to "some climatic phenomenon, in the try to make it rain in this area," as sais researcher Gabriel Prieto. "We know that when it rains, there is less anchovy in the sea. That was probably one of the reasons why the sacrifice was made close to the sea. It seems that they have used the entire Huanchaco site for this," added the researcher.
Researchers have determined that the skeletal remains belong to children between the 6 and 15 years old. "An almost apocalyptic slaughter of children and llamas, similar to the one previously discovered," describes Castillo.
Last April, National Geographic unveiled the most significant mass sacrifice of children in pre-Columbian Americas, which took place more than 550 years ago in northern Peru, thanks to the discovery of more than 140 children and 200 camelids offered as a ritual by the Chimu civilization.
In addition to these new bone remains, the team of archaeologists has also revealed a new small size Huaca, which they associate with a pre-Chimu culture, the Moche, which occupied these same territories between the years 100 to 700 of our era.