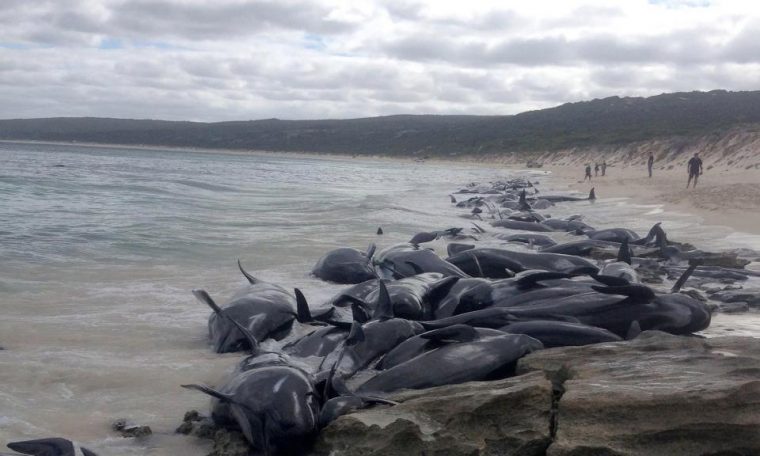 A group of rescuers managed to save only 5 out of the 150 short-finned pilot whales that were stranded on a beach in Western Australia. The surviving whales, up to 5.5 meters (16.4 feet) in length, have been moved to deeper waters, but Jeremy Chick, the man in charge with this incident control from the Park and Wildlife Service, who explained today that these mammals usually return to the beach after such an incident.
Also, "the main objectives are to ensure the safety of staff and volunteers, as well as (ensuring) the whales' greatest chance of survival," added Jeremi Chick.
He asked the residents of Hamelin Bay, in the south of Perth, to be alert and to announce the officials in case they detect a stranded whale.
A sixth whale was released at night to shallower waters but returned to the beach and had to be sacrificed.
Besides the 5 pilot whales rescued by volunteers, apparently, 10 more survived this incident.
Authorities will check on the surrounding beaches to see if there are other whales
Authorities said they will continue reviewing the surrounding beaches by land and air on Saturday until Sunday to see if there are any other pilot whales which need help.
The rescue attempts were hampered by the dead whales in the water, the wild terrain, and the rough sea.
The bodies were removed from the beach and authorities took DNA samples to find clues of why did the whales run aground.
More similar events have happened in Western Australia in the past
In 2009, more than 80 whales and dolphins died on a beach in Hamelin Bay.
However, the largest event of whales stranded in Western Australia occurred in 1996 in the town of Dunsborough. That year, 320 long-finned pilot whales ran aground.
The unhappy event of the 150 pilot whales stranded on a beach in Western Australia also attracted sharks in the area but no incidence has been registered.