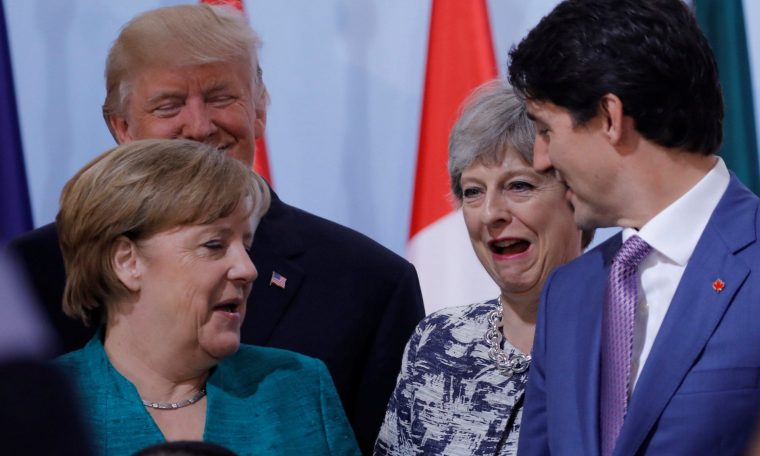 Environmentalists who opposed to the Trans Mountain pipeline project were waiting for Prime Minister Justin Trudeau on Wednesday in the United Kingdom. Greenpeace UK activists have installed a fake pipeline around the Canadian High Commission near Trafalgar Square, which reads "Crudeau Oil".
Protestants also rised two of the Canadian Mission's Greek-style columns to unroll gigantic banners bearing the same inscription, while British police and employees quietly watched them.
Thirty activists were hoping to express their opposition to Mr. Trudeau, but they saw him for a few seconds when he left the mission to attend an event at the town hall. Environmentalists shouted to the Prime Minister, "Climate change leaders do not build pipelines" and "Leave the oil sands in the ground".
Mr. Trudeau thanked them before rushing into a car.
A spokesperson for Greenpeace UK explained that they wanted to show their solidarity to all those who oppose the project, including the native people of British Columbia.
The real work will come when the Prime Minister meets with his British counterpart, Theresa May, to share his notes with Ms. May on a variety of topics, from Syria to Russia, to Brexit and the Commonwealth.
Justin Trudeau to talk free-trade agreement and climate change issues with Theresa May
The United Kingdom is one of Canada's most important allies, and Trudeau has been steadfast in his support for criticism by Ms. May following the poisoning of a former Russian spy last month and last week's strikes in Syria by the forces of the United Kingdom, France, and the United States.
Nevertheless, Mr. Trudeau is not on the same page as Ms. May, as he was with Mr. Macron, suggesting that the tone of the discussions could be very different.
Attention will be focused on laying the groundwork for a Canada-UK free trade agreement after the UK exit from the European Union, as well as joint efforts against Russian aggression and defense of democracy in Europe.
Trudeau will also seek to rally Ms. May to Canada's G7 priorities, which include stepping up the fight against climate change and a progressive trade agenda and gender equality. If he wins, Mr. Trudeau will have two key allies, Ms. May and Mr. Macron, as the US President Donald Trump withdrew his country from the Paris Climate Agreement and launched unprecedented attacks against free trade.