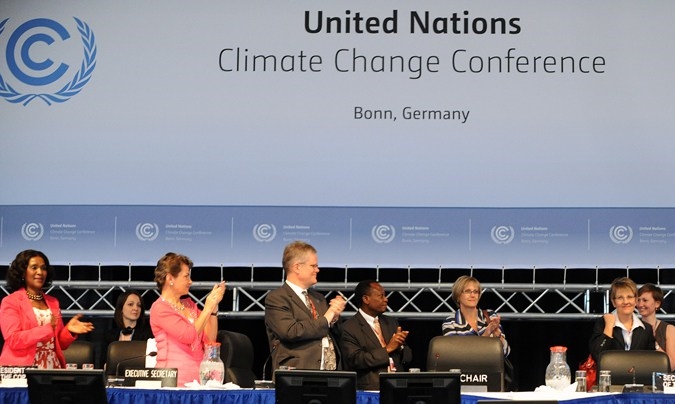 Today, May 10th, the inter-sessional meeting bringing together representatives of the countries to discuss the implementation of the Paris Agreement will come to an end in Bonn. Apparently, these are talks that again end without defining a clear route on how to deal with the legislative instruments against climate change that should be adopted at the next COP24 as the summit postpones clear decisions.
Inter-sessional meetings are essential to establish the texts and options that will eventually need to be discussed and approved in order to implement the Paris Agreement. Until these texts are adopted and ratified, this global compromise will not be effective.
The United Nations Framework Convention on Climate Change (UNFCCC) itself has just formalized a new preparatory meeting prior to the November summit in Katowice, Poland. This meeting will take place the first week of September in Bangkok and will cost $3 million.
The Bonn summit began with a United Nations report acknowledging a delay of almost $6 million in the payment of assessed contributions. What is most worrying is that the blockade on the funding needed for the poorest countries persists. Proof of this is how the objections raised by the African group at the end of COP23 have not been resolved.
The Bonn Summit on climate change somehow blocks the Paris Agreement progress
Analysis of the results available so far shows that the most important points are being systematically postponed to the Bangkok meeting. Some deferred topics included financing, finalizing the rule book, or the Global Stocktake process.
This meeting also served to launch the Talanoa Dialogue, a process that was conceived as a key mechanism for increasing climate commitments in 2020. However, the beginning of this initiative seems to be a space for conversation rather than negotiation, as has already happened with other platforms developed by the UNFCCC.
This debate is essential in the context of the forthcoming summit in Poland, characterized as not keen to implement new regulations against climate change. In fact, at the previous summit hosted by this country, the Polish Minister for the Environment was replaced in the middle of the summit because he was not sufficiently favorable for the ideas debated there.